Why Choose a Chiropractor After a Car Accident?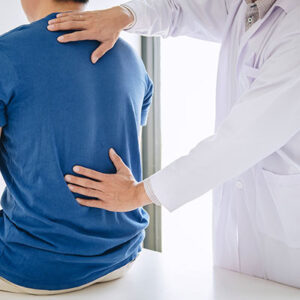 Once the dust has settled after a car accident, you may begin feeling unusual soreness, stiffness, neck pain, headaches or other discomfort. Even if your car accident was minor, it can leave you with injuries that need to be addressed. Even if you went to the emergency room or urgent care following your car accident, it is wise to consider making an appointment with a chiropractor for additional treatment. Here are 5 reasons why you should choose a chiropractor after a car accident:
Why You Need a Chiropractor After a Car Accident
Pain can present days or even weeks after a car accident. A chiropractor can assess your pain and discomfort and suggest a non-invasive treatment plan to help you feel better sooner.

Whiplash is one of the most common injuries following a car accident. This injury is the result of

the vertebrae in your cervical (upper) spine being knocked out of alignment. Symptoms include dizziness, headaches, stiffness and pain in your neck, shoulders and even down into your arms. A chiropractor has the experience and training to treat whiplash injuries and help you get back to feeling yourself quickly.

A chiropractor can offer treatments such as chiropractic adjustments, massage therapy, muscle stimulation, ultrasound and traction. These are all highly effective treatment for common car accident injuries including whiplash and soft tissue injuries.

Chiropractic care is non-invasive, meaning that this form of treatment does not require the use of prescription or over the counter medications. Common car accident injuries typically respond well to chiropractic treatment and patients do not generally need more invasive treatment options like surgical intervention.

A chiropractor will develop a personalized treatment plan that is tailored to your injuries, the specifics of your accidents and any other health conditions you face. Every car accident is different, and every client is different and chiropractic care can easily adapt to those differences.
 Experienced Florida Chiropractor
 Dr. Keren H. Gomez is a Chiropractic Physician that treats many clients following car accidents. She understands the intense stress that a car accident can cause and the many different ways our bodies can respond after an accident. She and her team are committed to helping you feel better quickly, and addressing the causes of your pain, stiffness and discomfort. Seeing a chiropractor after a car accident is generally a good idea, one that is very often covered by insurance and leaves you feeling even better than you did before your accident. For more information or to schedule an appointment call one of our three Florida locations: Dade: 305-761-6528, Broward: 954-510-5518 or Palm Beach: 561-414-2401.