COVID-19 - we are open and taking all steps to keep you and our staff safe!
Car Accident Chiropractor in Southern FL
Dr. Gomez has an extensive knowledge on various forms of treatment such as the Flexion-Distraction Technique, Thompson Technique, Diversified Technique, Gonstead Technique, Activator protocol and Core Stabilization Rehabilitation.
She can help.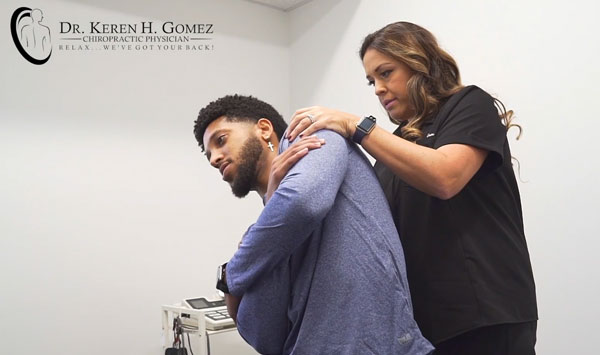 DOT Certified Physical Exam for Miami Lakes and Hollywood, FL
When you're injured, you shouldn't assume your body will heal on its own. Sometimes, your body needs help to heal correctly, and Dr. Keren H. Gomez Chiropractic Physician is here to provide that help. We offer injury rehab in the Miami, FL, area, including Palm Beach, FL. Contact us after you've been injured and we'll get you on the fast track to healing.
Professional Chiropractic Services
We are able to help with all sorts of injuries, including:
Injured muscles
Injured tendons
Injured ligaments
Cervical sprains
Whiplash
An injured or painful spine
What sets us apart is that we focus on effective treatments, not painkillers or anti-inflammatory drugs. We don't just mask the pain, we find the root of the problem and work to solve it. Whether you were in a car accident where your injuries were not immediately apparent, you slipped and fell and now have minor pain, or you were injured playing a sport and suffer debilitating pain, we'll help you recover.
Experienced Chiropractic Team
Dr. Keren H. Gomez Chiropractic Physician has been in the Miami, FL, area for 11 years, and we've established seven different locations for your convenience. Because so many of our clients are hurt in auto accidents, we also work with local attorneys to help with accident and injury claims if need be, so we can provide records to help you get compensation for your medical bills and recovery costs.
We put our clients first because we're dedicated to your care. Can't drive to your appointment? No problem, we offer transportation for you. Need help on the weekend? We're available 24/7. Plus we're fluent in English and Spanish.
So give our injury rehab clinic a call today at either 305-761-6528 (Dade), 954-510-5518 (Broward), or 561-414-2401 (Palm Beach).
Treatments

Treatments with pain-killers and anti-inflammatory drugs only suppress pain and other symptoms, leaving injured muscle to heal on their own.

Soft Tissue Injuries

Soft tissue injuries (Muscle, Tendons, and Ligaments), often can cause severe debilitating pain.
Injured Muscles

Injured muscles heal with scar tissue in a way that leaves them weaker, less elastic and prone to re-injury and pain.

Cervical Sprain / Strain and Whiplash to the neck

Cervical Sprain / Strain and Whiplash to the neck, are the most common injuries that results from a car accident.
Experiencing your first chiropractic visit can come with a mix of emotions: curiosity, apprehension, and hope for relief from physical ailments. With its hands-on approach to healing, chiropractic care presents an alternative health solution that focuses on a natural, drug-free path to wellness. This article aims to demystify what a first visit entails, the benefits…
Read More

→