How to Get a DOT Medical Card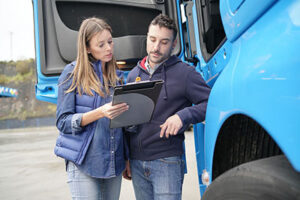 More and more, the Department of Transportation (DOT) is adding regulations and increasing guidelines for professional drivers. While many of these requirements may seem superfluous, one that actually makes sense is the need for drivers to pass a physical. The language and the specific requirements, however, can be complicated.
The terms DOT medical certificate, DOT health card, medical examiner's certificate, and DOT physical card are all interchangeable. Therefore, do not hear a different term regarding a driver's medical requirements and think there is yet another guideline drivers must follow.
When Does the DOT Medical Card Apply?
A DOT medical card is required for drivers who conduct interstate commerce in a vehicle with a combined gross weight of 10,000 pounds or more. A card is also necessary for drivers transporting 15 or more passengers and those who are receiving compensation for transporting 8 or more passengers. Finally, drivers moving hazardous material must also procure a DOT medical card.
The penalties for operating these designated commercial vehicles are stiff. The DOT will suspend the CDL of any driver found to be working without a valid DOT medical card. Driving through a weigh station or being pulled over without a valid CDL will result in an out-of-service citation. Tickets, fines, and other sanctions are soon to follow. As you can see, forgoing the DOT medical card requirement has a negative cascading effect on the career of a professional driver.
The Steps to Acquiring a DOT Medical Card Are Simple
To obtain a DOT medical card, the first step is scheduling a physical exam with a licensed Certified Medical Examiner. Only practitioners who have been qualified with the DOT can perform the physical and issue medical clearance for professional drivers.
The certified medical examiner will review a driver's health history and perform a thorough physical examination. The exam will also include testing a urine sample in order to screen kidney function. This part of the physical is to check for diabetes or infections in the body.
Finally, the certified medical examiner will submit a report to the National Registry of Certified Medical Examiners. Drivers who pass the physical exam will then receive a copy of the Medical Examiner's Certificate; which meets the DOT medical card requirements.
For more info on passing a DOT physical, contact Dr. Keren Gomez at 305-761-6528 or schedule an exam using her online appointment scheduler. Dr. Gomez is a certified medical examiner and would be more than happy to help you complete your DOT physical.