Accident Clinics in Miami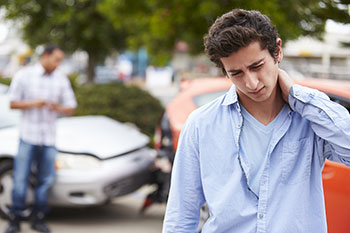 Being involved in a car accident is a traumatic experience that can result not only in major emotional wounds, but also a lifetime of chronic pain. If you have suffered from back or neck pain after an auto accident, it's important to know how to proceed with treating your injuries. After suffering injuries from any type of accident, a visit to a Miami chiropractor is one of the first steps you should take on your road to recovery.
Always Take Accident Injuries Seriously
What may seem like a minor fender bender can lead to a lifetime of pain when damage to the musculoskeletal system occurs. Car accidents at speeds as low as 5 mph still have the ability to cause the cervical spine to become misaligned, and can result in a painful whiplash injury. Typical symptoms from auto and falling accidents include complaints such as back and neck pain, headaches, shoulder pain, weakness in limbs, and facial pain. Additionally, accident victims can suffer long term blurred vision, loss of sleep, dizziness, and irritability.  All of these symptoms can readily ruin one's life as they each result in a diminished quality of life.  Without prompt and proper chiropractic treatment, accident victims can suffer from a lifetime of pain and suffering. It's important for accident victims to seek relief from their pain by a chiropractor promptly rather than wait for their pain and injuries to worsen.
Miami Legal Assistance After An Accident
Whether you were driving or if you were a pedestrian and were hit by a vehicle, or if you fell or experienced an accident due to someone else's negligence, under Florida statute, you may be entitled to receive medical treatment. And if you were involved in an auto vs auto collision, whether or not you were at fault, you may qualify for medical treatment under Florida statute.  At Dr. Keren Gomez, we work with accident attorneys in Miami, West Palm, Orlando, and Broward and can refer you to a licensed accident attorney, if one is needed. Not only can an accident attorney assist in getting your vehicle repaired quickly, they can also work with your insurance company on your behalf to seek reparations for your injuries and lost wages due to your accident.
Timing Is Important After An Accident
Any fall or car accident should never be taken lightly. With prompt treatment, both acute and chronic pain after an accident can benefit from proper diagnostic and chiropractic care. If you are suffering from pain as a result of being involved in a car accident, contact the chiropractors at Dr. Keren Gomez as soon as possible. The chiropractors at Dr. Keren Gomez are available at any of our chiropractic clinics in Miami, and additional clinics in West Palm Beach, Pompano Beach, and Hollywood, for an appointment and location that is convenient for you.
Contact Our Miami Chiropractor
If you would like more information about how chiropractic care can help relieve your pain due to an auto accident or an accidental fall, we invite you to contact our offices today by calling our Dade location at 305-761-6528, or our Broward office at 954-510-5518, or by completing our online contact form.