Chiropractor West Palm Beach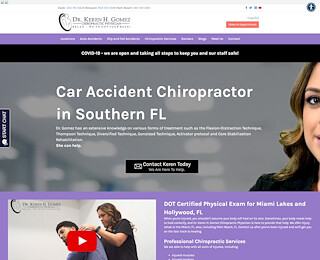 If you've tried everything, but your pain still isn't going away, don't give up because the pain may not be what you think it is! More and more people are choosing to see a chiropractor in West Palm Beach to alleviate their pain, and more and more of them are finding great results! Dr. Keren H. Gomez Chiropractic can deliver you from debilitating pain quickly - as soon as you want!
Dr. Keren Gomez Can Help
Many of us suffer from chronic pain for years before exploring chiropractic care. People turn to their primary care physicians for medications, they get professional massages and pursue other pain-relief techniques, but like clockwork, the pain keeps coming back again and again! Chronic pain anywhere in the body can take a huge toll on your life. If you need help to get rid of your pain, you're in the right place now. Dr. Keren H. Gomez can help!
What Causes Chronic Pain?
When you come into our West Palm Beach chiropractic clinic for the first time, we're going to evaluate where your pain is coming from because the pain is often not what our patients think it is. We use the latest technology tolook inside of your nervous system and see what it's doing. We also have a surface EMG which records the electrical activity of your muscles. We use the latest technologies and products in the world! You might be surprised to learn that many people suffer from pain simply because they place uneven weight distribution on their feet.
A lot of things could be causing you pain, and the sources of pain are not always as simple as uneven weight distribution. For example, people who sit in chairs at work a lot or travel a lot for work often experience excessive chronic back and or leg pain. Also, a person may have had accidents when they were younger that were not addressed properly, and the damage may just be showing up now.
Could Your Diet be Causing Your Pain?
With a chemical evaluation, we often discover that the culprit is the person's diet. People with busy and hectic schedules usually don't have a balanced life or diet. They routinely eat on the go, often taking meals in the form of unhealthy snacks such as sugary and salty processed foods. High levels of sugar and salt in the body place undue stress on the nervous system, and these can also create inflammation that shows up as pain.
Anxiety and Stress Could be Causing Your Pain
Even still, the emotional component of stress can lead to severe pain. People who are going through stressful times, ordeals, and lots of anxiety may suffer from pain, and a few visits to the chiropractor's office might make all the difference! Of course, we cannot possibly know what the cause of your pain is until you come in. So, we encourage you to make your first appointment today and take that first step towards living a pain-free life.
Visit Dr. Keren Gomez to End or Reduce Your Pain
If you would like to book an appointment with a top chiropractor in West Palm Beach, contact the office of Dr. Keren H. Gomez and schedule your appointment today. We've got chiropractic down to a science!
Chiropractor West Palm Beach
Dr. Keren Gomez
305-761-6528
12550 Biscayne Blvd Suite 404, North Miami, FL 33181
View Larger Map
We welcome your comments!