Car Wreck Injury North Miami Florida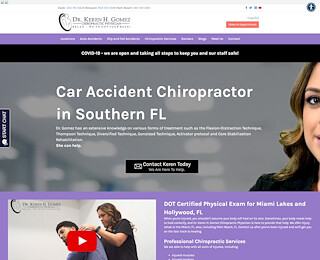 Has a car wreck injury in North Miami, Florida brought your life to a standstill? If you don't know where to turn, there's help, at the Auto Accident Clinic in North, Miami, Fl. 
If your insurance company told you there was nothing they could do to help you, don't believe it. You need medical treatment and legal representation on your side. Call Dr. Keren Gomez at 305-761-6528 and start moving forward.
If you've been in a car wreck and have an injury, North Miami, Florida's Accident Clinic can help you start putting your life back into perspective. Dr. Gomez works with patients every day, just like you, who have been injured in an auto accident and need medical treatment and legal counsel. When you make an appointment in the Accident Clinic, Dr, Gomez will begin to treat your injuries and offer you a referral to a Florida Bar licensed attorney who can represent you in your case.
There are many reasons why you need a lawyer in your corner after a car wreck, especially one that has resulted in an injury in North Miami, Florida. Your lawyer will tell you that in the state of Florida, it is essential for you to get medical treatment as soon as possible because you have only 14 days to seek treatment or forfeit your rights to compensation under Florida law.
A lawyer can also help you communicate with your insurance company- and get results. If you've already placed a call to your insurance company, you may have noticed that they tend to take their clients less seriously than they do a lawyer. Once they receive a call from your lawyer, they know you mean business; their game usually stops, and action follows. 
More important, your lawyer can make a compensation demand for you concerning your injuries, medical treatment, lost wages, pain, and suffering. If you're sitting at home wondering how you're going to be able to afford medical treatment, pay your bills, return to work or take care of your family, this is excellent news. Your lawyer will take care of the details while you begin the healing process.
Dr. Keren Gomez is a Chiropractic Physician at the Accident Clinic who is focused on the diagnosis and treatment of neuromuscular conditions, with an emphasis on treatment through manual adjustment or manipulation of the spine. If you have a car wreck injury in North Miami, Florida, it's common to think that your aches and pains will go away in time. That's what most people think! However, many injuries can go unnoticed if not evaluated by an Accident Chiropractor.
Dr. Gomez has experience treating patients with whiplash, neck pain, headaches, shoulder pain or back pain following a car wreck. Your injury can be treated in the North Miami, Florida Accident Clinic beginning with a thorough exam with diagnostic testing.
Don't wait until it's too late. Seek medical treatment at the Accident Clinic in North Miami, Florida before your 14 day grace period has expired. Call Dr. Gomez today at 305-761-6528, and rest assured she will do everything possible to help put your life back together again.
Car Wreck Injury North Miami Florida
Dr. Keren Gomez
305-761-6528
12550 Biscayne Blvd Suite 404, North Miami, FL 33181
View Larger Map