Car Wreck Injury Miami Florida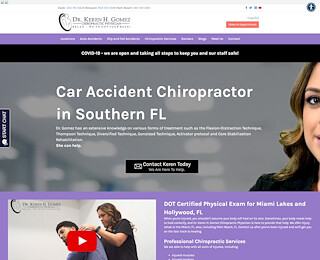 Are you trying to deal with a car wreck injury in your Miami, Florida home? Are you worried about how you're going to pay your bills and take care of your family? You're not alone.
If you've been the victim of an auto accident, take heart. Dr. Keren Gomez from the Auto Accident Clinic in Miami can help you start to put your life back together again. The Auto Accident Clinic helps patients with their injuries, managing pain and beginning the healing process; they also help patients get connected with an injury attorney who can represent them during their case.
Dr. Keren Gomez can help you get in touch with an accident attorney in Miami, Broward, West Palm Beach or Orlando. This can be a very confusing time, especially if you have a car wreck injury as the result of the accident. In Miami, Florida, the Auto Accident Clinic is an excellent source of information for patients who are in the same situation as you are.
If you need legal help but are not sure where to begin looking, or are not sure how you will be able to afford medical treatment, Dr, Gomez can refer you to a Florida Bar licensed accident attorney so that you can receive legal counsel to move forward. An attorney can help you get your vehicle repaired in a timely fashion, assist with communication between you and your insurance company and make a demand on your behalf for your injuries, lost wages, medical treatment, and even pain and suffering.
Dr. Gomez is a Chiropractic Physician offering modalities that are used in conjunction with Chiropractic care. She can treat your car wreck injury in the Miami, Florida office to help manage your pain and begin the process of your healing. 
If you've been in a car wreck and have an injury in the Miami, Florida area and are not sure what to do first, follow these simple steps:
- If you're at the scene of an accident or a slip and fall scene, call 911 immediately
- Make your next call to Dr. Keren Gomez at the Auto Accident Clinic at 305-761-6528
- If injuries are life-threatening, go to the emergency room. 
- If you've been in the accident, call your insurance company to get a claim number
- If you have a car wreck injury in Miami, Florida that is not life-threatening, schedule an appointment with Dr. Gomez.
Dr. Gomez will document all of your injuries and report them to the insurance company. It's essential that you follow the doctor's treatment plan to achieve optimal health and recovery. Since each patient is different and the medical care prescribed is specific to each patient, your treatment plan is expressly for you.
For your car wreck injury in Miami, Florida, be sure to see Dr. Gomez. With the right medical treatment plan and legal counsel on your side, you have the best chances of healing correctly, and receiving compensation for your injuries. Don't sit at home wondering what to do. Make the call that will change everything. Call Dr. Keren Gomez at 305-761-6528.
Car Wreck Injury Miami Florida
Dr. Keren Gomez
305-761-6528
12550 Biscayne Blvd Suite 404, North Miami, FL 33181
View Larger Map