Car Wreck Injury Hollywood Florida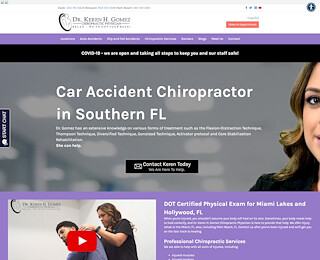 Is a car wreck injury in Hollywood, Florida keeping you from enjoying life? Chaos can often follow an auto accident. Sometimes an injury can prevent an accident victim from being able to experience life in the ways they are used to. Don't sit at home after an accident wondering what you're going to do. There's help.
The Car Accident Clinic helps car wreck injury patients in Hollywood, Florida to get their lives back on track, with exceptional medical treatment and recommendations to help you connect with legal counsel for your claim. Dr. Keren Gomez is a Chiropractic Physician at the Car Accident Clinic who is dedicated to helping patients with pain management and healing following an auto accident. 
The Car Accident Clinic offers this advice following an accident:
- Never assume that someone else has called 911. Make the call yourself, and if you're not able to, petition a passer-by to make the call.
- Let emergency responders take you to the hospital if you even suspect that you have an injury. You may not be feeling any pain at that moment, but that doesn't mean you are not injured. Whiplash is one example of an injury that can be present without causing any pain for days or even weeks following the accident. 
- If you are dealing with a car wreck injury in Hollywood, Florida, and you haven't been to the ER, make sure you contact the Car Accident Clinic right away. Florida only allows 14 days for you to seek treatment from a medical practitioner, or else forfeit all rights to receiving benefits or compensation under the law. The Car Accident Clinic is set up to provide treatment for your injuries, as well as recommend legal representation for your claim. 
The Car Accident Clinic works with attorneys throughout Southern Florida. If you need an accident attorney, they can help you get connected with one who can communicate with your insurance company professionally and efficiently. An attorney can also help you take action for your injuries, medical treatment, lost wages, and pain & suffering. 
If your back pain is keeping you from doing the things you enjoy, don't wait- call Dr. Keren Gomez immediately at 305-761-6528. Make sure you are dealing with a qualified Chiropractor such as Dr. Keren Gomez who can get you on the road to recovery as quickly as possible. 
If you suspect that you have a cervical spinal misalignment or whiplash, you need Chiropractic treatment right away. Pain is not always present immediately following an accident. It can sometimes take weeks or even months before your injury becomes so painful that you can hardly move. If you're dealing with a car wreck injury like whiplash in Hollywood, Florida, get help right away.
Call the Car Accident Clinic at 305-731-6528 to make an appointment. Prompt treatment is essential to your recovery and pain management. If you don't have a lawyer, the clinic can help get you connected with one who can provide legal counsel for you and represent you in your claim. Call today; time is short.
Car Wreck Injury Hollywood Florida
Dr. Keren Gomez
305-761-6528
12550 Biscayne Blvd Suite 404, North Miami, FL 33181
View Larger Map