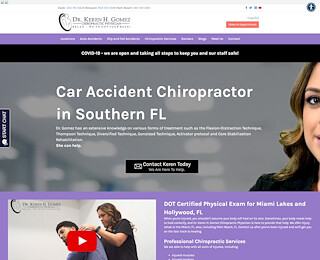 Trying to recover from a car accident in Miami is not an easy process. If a medical professional has not yet seen your injuries, you have a limited amount of time to schedule a visit if you plan to seek compensation through the courts. Dr. Keren Gomez and her staff at the Miami Accident Clinic can provide an accurate diagnosis of your condition and put together a treatment plan designed to help speed healing and get you back to your life.
The Two-Week Law
The state of Florida allows only 14 days for accident victims to seek treatment for their injuries or forever forfeit the right to hire a lawyer to sue for recompense. If you're sitting at home wondering what to do next about your injuries, the first step is scheduling an appointment at our clinic. If you can't drive or have no way to get to our clinic, just let us know when you call- we'll provide transportation for you. We treat:
Soft tissue injuries that affect the muscles, tendons, and ligaments
Cervical sprains and whiplash to the neck- the most common auto accident injury
Injured muscles
And more
We Work With Local Injury lawyers
One of the services we provide to patients involves connecting them with reputable accident lawyers throughout Miami who can help patients get back on their feet, financially. If you're unable to work, have lost time on the job, or have suffered severe injuries that prevent you from being able to return to work, a lawyer can ensure that the other driver is held responsible for your injuries and that you receive the right measure of compensation. Our attorneys seek the highest amount of compensation allowed under the law.
Recovering From a Car Accident in Miami
Our medical experts know that a correct diagnosis is key to choosing the right treatment plan for recovery. We'll provide a thorough evaluation using the latest diagnostic equipment available, creating a custom treatment plan designed specifically for you. We use a broad range of treatments and modalities to restore health, including intervertebral traction, electric muscle stimulation, therapeutic sound, neck traction, moist heat, light therapy, and cryotherapy.
Managing Pain
If you've been in a car accident in Miami, you may be dealing with pain. We highly recommend that you schedule a visit with Dr. Keren Gomez at the Miami Accident Clinic to get to the bottom of your symptoms and to speed the healing process. Our chiropractic treatments can go a long way toward alleviating pain that accompanies an injury or multiple injuries. Make a call to our facility to schedule an immediate appointment with our team. You'll never regret the decision to have your injuries looked at closely by a medical professional.
It's not easy knowing what to do following an accident. Our staff can document your injuries, connect with the insurance company, and appoint an attorney to your case to provide legal advice and representation in court to ensure just compensation for your injuries.
Car Accident Miami
Dr. Keren Gomez
305-761-6528
12550 Biscayne Blvd Suite 404, North Miami, FL 33181
View Larger Map