Car Accident Injury Miami Lakes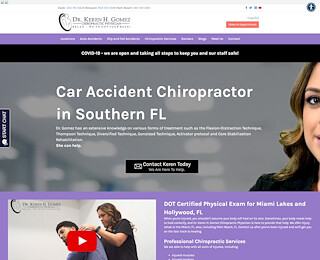 Have you been in a car accident and suffered an injury in Hollywood, Florida? If so, this can be a confusing and challenging time for you. After all, there are no handbooks given out at the time of the accident to help you know what to do. If you're sitting at home wondering how you're going to pay your bills, or how you're going to afford treatment for your injuries, stop worrying and make a phone call.
The car accident injury in Miami Lakes can help. They work with accident lawyers who are committed to providing you with legal representation following an accident. Your first step is to seek medical attention for your injuries. If they are life threatening, go to the emergency room immediately following the accident. Otherwise, call Dr. Keren Gomez at the Car Accident Clinic at  305-761-6528. 
Dr. Gomez treats car accident injury patients in her Hollywood, Florida clinic and has helped many patients in your situation. If you need help after an accident, call the clinic and get treatment right away. Florida restricts injured parties to 14 days to seek medical treatment once an accident has occurred. If you fail to seek treatment for any reason, you give up your right to be compensated later on for your injury. This makes it all the more important to call the Car Accident Clinic for your injury in Hollywood, Florida.
Dr. Gomez is a Chiropractic Physician who holistically treats patients in her clinic. As a dedicated Chiropractor, Dr. Gomez is committed to providing exceptional treatment to her patients as well as educating them on becoming more active in their well being. 
The Car Accident Clinic provides these steps to taking care of an injury following a Hollywood, Florida auto accident:
- Don't forget to call 911. Even if you assume that someone else has already called, make sure you call yourself or are aware personally that the call was made.
- Seek emergency medical treatment for life-threatening injuries or prompt medical treatment for injuries that are not life-threatening. Make an appointment to be seen at the Car Accident Clinic for your injuries in Miami Lakes by calling 305-761-6528.
- Make a call to your insurance company and let them know you've been in an accident and have injuries. Request a claim number for a reference to give to your doctor and your attorney. If you don't have an attorney to represent you for your claim, The Car Accident Clinic will recommend an accident attorney who can represent you and offer legal counsel.
If you're unable to drive your vehicle. The Car Accident Clinic will make arrangements for transportation for you. Just let them know at the time that you make your appointment. Make sure you don't wait until your injuries get worse. Call the Car Accident Clinic for your injuries in Miami Lakes today at 305-761-6528.
You'll glad you called the professionals who can treat your injuries and connect you with legal representation for your claim. 
Car Accident Injury Miami Lakes
Dr. Keren Gomez
305-761-6528
12550 Biscayne Blvd Suite 404, North Miami, FL 33181
View Larger Map