Car Accident Injuries North Miami Florida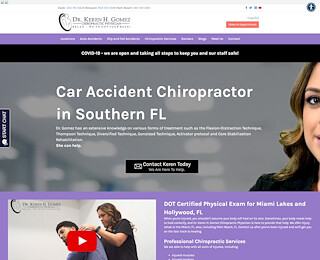 Car accident injuries in North Miami, Florida must be treated promptly. Injured victims who do not seek medical attention within 14 days forfeit their rights to compensation under the law. 
If you've been injured in a car crash and are having trouble figuring out which way to turn, contact Dr. Keren Gomez from the Auto Accident Clinic. You should be seen by a doctor immediately following the accident. Many types of injuries do not manifest in painful symptoms until days, weeks or even months later. One such injury is a cervical spine misalignment.
Sometimes referred to as whiplash, a cervical spine misalignment may not present as being painful right after the accident. X-rays can show that you've been injured however, making it essential that you go to the emergency room following the accident. Some signs that you may be dealing with cervical spine misalignment include:
- Neck pain and/or stiffness
- Pain in neck and movement worsening over time
- Range of neck motion loss
- Headaches beginning at the base of the skull
- Pain and/or tenderness in shoulders, upper back and arms
- The feeling of numbness or tingling in the arms
- Fatigue
- Dizziness
Some less common symptoms of cervical spine misalignment can include:
- Vision becoming blurry
- Ringing in the ears
- Difficulty getting to sleep or staying asleep
- Moodiness
- Lack of concentration
- Issues with memory
- Depression
Through professional Chiropractic treatment, Dr. Keren Gomez can treat your car accident injuries in her North Miami, Florida office, through therapeutic massage, cold laser therapy, therapeutic ultrasound, medical traction, moist heat or ice, rehabilitation, spinal adjustments and muscle stimulation.
If you're dealing with car accident injuries in the North Miami, Florida area, do not hesitate to call Dr. Gomez at 305-761-6528. If you wait for your injuries to get worse, you may be in too much pain to deal with. Back pain, neck pain and other injuries that are not promptly treated can end up resulting in chronic pain that can linger for years. Injured muscles heal with scar tissue in a way that leaves them weaker, less elastic and print to re-injury and pain.
Cervical sprain, strain, and whiplash are the most common injuries resulting from auto accidents. They're also one of the most painful types of injury to deal with. If you suspect that you have whiplash, make an appointment right away at the Auto Accident Clinic. They'll not only treat your injuries but will be able to help you get connected with an injury attorney who can handle your accident claim.
Dr. Gomez works with accident attorneys across South Florida to help patients who don't know how to find direction after an accident. If you need legal help but don't know how to start, how you will afford your medical bills or who will take care of your family. Dr. Gomez can refer you to the right lawyer to fit your needs. They can help you navigate this complicated process and start putting your life back in order.
Call the Clinic at 305-761-6528 if you have car accident injuries in North Miami, Florida. Get the help you need, immediately.
Car Accident Injuries North Miami Florida
Dr. Keren Gomez
305-761-6528
12550 Biscayne Blvd Suite 404, North Miami, FL 33181
View Larger Map