Car Accident Injuries Miami Lakes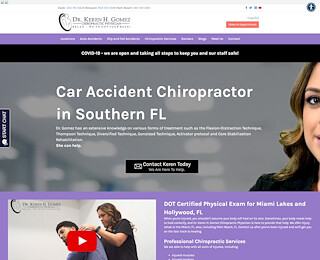 Locals who are dealing with car accident injuries in Hollywood, Florida call the Auto Accident Clinic. If you're frustrated because your back pain is preventing you from doing the things you love, don't wait for your injuries to worsen. Make sure you're dealing with a professional Chiropractor like Dr. Keren Gomez. She and her staff can get you on the road to recovery as quickly as possible.
Dr. Gomez has been a practicing Chiropractic Physician since 2007 and has dedicated her life to becoming a Chiropractor to provide quality healthcare for those in need. Treating the tenured person through holistic treatment, Dr. Gomez can help her patients achieve their health goals and a higher level of personal wellness.
Chiropractic treatment is designed to align and manipulate the spine to relieve muscular, back or neck pain. The purpose of Chiropractic treatment is to reduce the pressure from the spinal nerves, allowing a more natural and healthy recovery, providing more strength to the muscles and the ligaments. Through the manual alignment and manipulation of the spine, the pressure from the nerve is removed, and pain is alleviated. 
Chiropractic adjustments involve exerting pressure on the spinal vertebrates that are not aligned. The Car Accident Clinic also treats injuries in their Hollywood, Florida location through:
- Therapeutic Massage
- Cold Laser Treatment
- Therapeutic Ultrasound
- Medical Traction
- Moist Heat or Ice
- Rehabilitation
- Spinal Adjustments
- Muscle Stimulation
If you are suffering from car accident injuries Miami Lakes and don't know where to turn, Dr. Keren Gomez is here to help. The Car Accident Clinic has helped many patients in similar situations as yours throughout the years. Make the call to 305-761-6528 and set up an appointment for treatment for your injuries.
It's important to take note that following an accident if you've been injured, you have only 14 days to seek medical treatment. If you wait until after the 14 days, you cannot seek benefits or compensation for your injuries. That's why it's essential that you go to the emergency room immediately following the accident or seek medical treatment promptly after the accident takes place. Don't wait until your injuries get worse-it may be too late!
Pain that is not directly addressed with proper medical treatment or rehabilitation can end up causing chronic pain that can last for years. Your Chiropractor can help you restore muscular strength and flexibility through professional treatment. This will allow the soft tissue to heal correctly with less chance of pain and dysfunction in the future.
Treatments with pain-killers and anti-inflammatory drugs only suppress your pain and other symptoms, leaving injured muscles to heal on their own. After a car accident, your injuries must be treated by a professional in Hollywood, Florida. The Car Accident Clinic can provide you with the treatment you require to heal correctly and can also help you get connected with an accident attorney who can represent you in your claim.
Call the Car Accident Clinic at 954-510-5518 today. There's no time to lose if you have injuries. In Hollywood, Florida, you are limited to 14 days to seek treatment. Call today.
Car Accident Injuries Miami Lakes
Dr. Keren Gomez
305-761-6528
12550 Biscayne Blvd Suite 404, North Miami, FL 33181
View Larger Map