Car Accident Clinic West Palm Beach Florida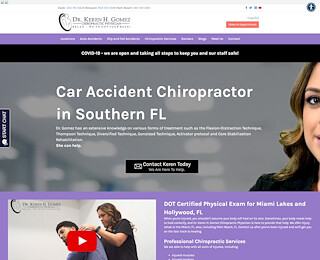 Are you looking for medical treatment following an auto accident? Contact the Car Accident Clinic in West Palm Beach, Florida for exceptional, holistic care and assistance after an accident. They'll help you every step of the way, from Chiropractic treatment to help you get connected with a local attorney who can provide you with representation.
If you've been injured in a car crash, you may feel as if your whole life is unraveling before you. It's common for victims of accidents to seclude themselves in their homes, not knowing where to turn or how to proceed. Don't make that mistake. Call Dr. Keren Gomez at the Car Accident Clinic in West Palm Beach, Florida. She's able to treat your injuries and help you get connected with the right lawyer to handle your claim.
The Car Accident Clinic in West Palm Beach, Florida works with accident attorneys in the Miami, Broward, West Palm Beach and Orlando areas. If your bills are piling up and you don't know how you're going to pay them, and aren't sure if you can pay for your medical bills on top of your monthly bills, the Clinic can refer you to a Florida Bar licensed accident attorney to provide you with proper legal counsel. Having an accident attorney in your corner can help you better communicate with your insurance company professionally and efficiently that gets results.
Often enough, it takes the weight of a lawyer for action to take place concerning a demand on your behalf for your injuries, medical treatment, lost wages and pain & suffering. This is one crucial reason why legal representation is so important. Unfortunately, insurance companies are known to make lowball offers to the injured party in hopes that they will settle for much less than would be enough to pay off medical bills or compensate for injuries. Let an attorney decide what your injuries are worth. Their experience will work in your favor.
Seek the medical treatment of an accident Chiropractor from the Car Accident Clinic in West Palm Beach, Florida. Their Chiropractors are health care professionals who are focused on the diagnosis and treatment of a neuromuscular condition, with an emphasis on treatment through manual adjustment or manipulation of the spine. If you have been in an accident, it's common to think your aches and pains will go away. However, many injuries can go unnoticed if not evaluated by an Accident Chiropractor. 
Dr. Gomez is experienced in treating patients with whiplash, neck pain, headaches, shoulder pain or back pain following a traumatic injury. The Car Accident Clinic's Chiropractors will complete a thorough physical exam with diagnostic testing to best diagnose your condition.
Make an appointment at the Car Accident Clinic in West Palm Beach, Florida and rest easy knowing you'll be professionally taken care of while receiving treatment. You'll also receive a prompt and professional attorney recommendation based on your claim so that you can move forward in an attempt to receive just compensation for your injuries. Call 305-761-6528 to get started.
Car Accident Clinic West Palm Beach Florida
Dr. Keren Gomez
305-761-6528
12550 Biscayne Blvd Suite 404, North Miami, FL 33181
View Larger Map