Car Accident Clinic North Miami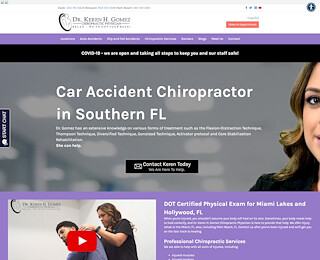 If you've been in an auto accident, you may be sitting in your home trying to figure out what happens next. The fact of the matter is that no one will come to you to solve your post-accident problems. You have to reach out to a medical facility to get help for your injuries.

Call Dr. Gomez in North Miami to see about coming in for her car accident clinic. Scheduling an appointment after an auto accident is an easy way to jumpstart your recovery. After urgent care has been administered and you've been sent home, you probably have a lot of unanswered questions and injuries that require ongoing care. At the Car Accident Clinic, you'll not only receive a proper diagnosis for your injuries, along with quality treatment for a prompt recovery, but you'll also have access to some of the best advice in the area concerning your accident case.

Dr. Keren Gomez at the Car Accident Clinic in North Miami works with top local attorneys to assist her patients in getting the legal counsel they need to move forward with their case. Consider the following steps if you have been in an auto accident:

- Immediately following the accident, seek urgent care by calling 911, or if another driver has called for assistance, go to the emergency room if you have sustained injuries as a result of the accident. In many cases, the shock involved in being in an accident may cause the injured parties to feel as if there is nothing wrong with them. In these cases, pain from injuries may not set in for days, weeks or even months following the accident. This is why it is so critical to seek emergency care.

- After the time for urgent care has passed, it is still necessary to seek treatment for your injuries. Insurers allow for 14 days after the accident to seek medical treatment, but once that time has passed, if you fail to be seen at a medical center for your injuries you forfeit your rights for compensation. When it comes to the after-effects of an auto accident, it's essential to know whether or not you've been injured. Dr. Keren Gomez urges victims of auto accidents to make an appointment with her staff as soon as possible.

A chiropractic assessment of your injuries is an important asset when it comes to being armed and ready to present your legal case. As a patient at the Car Accident Clinic in North Miami, you can rely on Dr. Gomez to provide you with a contact referral to a local, reliable attorney who specializes in accident representation. Your professional team will help you navigate the process of healing your body and recovering your assets while obtaining the financial means to cover a loss of wages, property and medical expense.
Car Accident Clinic North Miami
Dr. Keren Gomez
305-761-6528
12550 Biscayne Blvd Suite 404, North Miami, FL 33181
View Larger Map