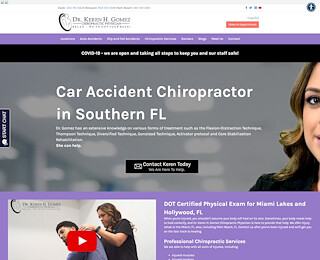 Have you been in a car crash? This can be one of the scariest times in the life of a person who is trying to navigate through all of the chaos that follows an accident. If you have injuries, it's even more difficult. You're probably wondering how you're going to be able to pay your bills, or where you can get the best medical treatment- and how you're going to afford to pay for it. You may even be thinking about hiring an attorney to represent you.
That's where the car accident clinic Miami Lakes steps in. They'll help you every step of the way following an auto accident. That's what they're there for! If you've been the victim of a car crash and don't know where to turn, make your first call Dr. Keren Gomez at the Car Accident Clinic in Hollywood, Florida.
Dr. Gomez has been a practicing Chiropractic Physician since 2007 and has dedicated her life to providing quality health care for those in need. Her dedication in helping victims of auto accidents who are in pain, while educating her patients on how they can take a more active role in their own well being. Dr. Gomez treats the entire person, with a holistic approach, not just their symptoms. 
The car accident clinic Miami Lakes has seen many car crash patients come through their doors. Cervical spine misalignment is one of the injuries that is common during a vehicle crash or other trauma that causes a sudden and abrupt movement to the head, causing it to be forced beyond the normal limits of its motion. This is sometimes called a whiplash, and is due to the neck muscles violently snapping the head forward, and then from an immediate reflex, propelling it backward. 
A Cervical Spine misalignment injures the structures of the neck, such as muscles, ligaments and joints, and is the cause of the pain in the shoulders along with it being difficult and painful to move the head from side to side. Common symptoms of a Cervical spine misalignment are: cervical pain, dizziness, stiff neck, shoulders, arms & hands pain, a tingling in the hands, and headaches.
It can take days, weeks and even months for the symptoms of cervical spine misalignment to manifest after the accident. This is the main reason why it's so important to go to the emergency room following an accident. X-rays can confirm the diagnosis much earlier than your body can. If you're unable to detect a cervical spine misalignment until after 14 days have passed, you cannot receive compensation for your injury.
If you've been diagnosed with cervical spine misalignment or another injury following a car crash, contact the car accident clinic Miami Lakes by calling 954-510-5518. Make an appointment with Dr. Keren Gomez over the phone, or by going to the website at drkerengomez.com. You can fill out a contact form online and will be contacted shortly afterward with your appointment details. 
Make sure you don't go through the process of healing after an accident without the advice and professional assistance of The car accident clinic Miami Lakes. They're there to help you every step of the way, from treating your injuries to making sure you get connected with the best accident attorney in the area. Call today and get help.
Car Accident Clinic Miami Lakes