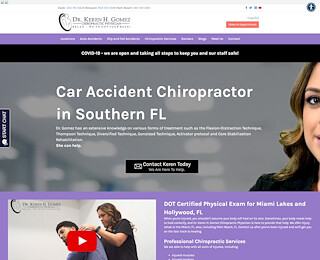 Finding the right medical center to treat you following an auto wreck is critical to recovering from your injuries, but did you know that Dr. Keren Gomez at the Car Accident Clinic in Miami Lakes is also able to help you obtain legal counsel with regard to your claim? Dr. Gomez works with the best auto accident attorneys in the greater Miami area, along with her patients, to ensure that when you come in to the clinic, your most crucial needs are met.
When it comes to the after-effects of an auto accident, pain from injuries can keep you from living the lifestyle you're used to living, and can even be a detriment to being able to take care of your family. After an accident, don't wait for treatment for your injuries. It's imperative that you are examined and diagnosed by a chiropractor for prompt relief of your injury pain.
Patients of Dr. Keren Gomez are able to choose from a number of convenient locations throughout Miami, including the Car Accident Clinic of Miami Lakes. For immediate, and life-threatening injuries following an accident, you should be seen in the emergency room by an urgent care specialist, however, once your immediate injuries have been treated, you will most likely have other injuries of a non-urgent nature. These should be seen as soon as possible to ensure that you are properly diagnosed and treated.
The staff at the Car Accident Clinic in Miami Lakes wants you to understand that prompt chiropractic treatment for your injuries is critical for proper recovery. They suggest that patients schedule an appointment within 14 days of the accident, for two very important reasons:
– With prompt chiropractic care at the Car Accident Clinic in Miami Lakes, you greatly reduce the risks of developing worsening and chronic pain.
– If you fail to seek medical treatment within 14 days following an accident, Florida law dictates that you forfeit all rights to seek treatment for your injuries at a later point in time.
The Doctors at the Car Accident Clinic will take all the time necessary to ensure that you get the highest quality of care in their office. After a thorough exam, they will provide you with a diagnosis of your injuries and present you with a treatment plan to target your injuries and lead to recovery.
Another important aspect of seeking care from Dr. Gomez is that your accident injuries will be properly documented and promptly reported to your insurance company, so they can begin the process of filing your claim. In the event that your insurance company is unwilling to pay for your medical bills, Dr. Gomez will be happy to recommend an attorney who can represent you with regard to your case.
Call the Car Accident Clinic in Miami Lakes today at 305-761-6528 to schedule your appointment and rest easy knowing your in the best hands when it comes to your injuries and your accident claim. Call today- don't wait!
Car Accident Clinic Miami Lake