Car Accident Clinic Kendall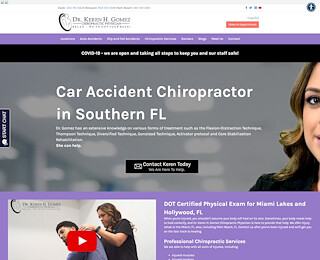 Have you been in an auto accident? If so, you may not be aware that you have a limited amount of time to seek treatment at a medical facility before you forfeit your rights to seek compensation for your injuries. Call the Car Accident Clinic in Kendall at 305-761-6528 to find out how they can help you.

It's not easy knowing who to trust with your injuries. Locals trust Dr. Keren Gomez with treating their post-accident aches and pains for a variety of reasons. Dr. Gomez is not only able to help you manage your pain, but her office also works with attorneys to get you the representation you deserve after an accident.

You may be suffering from back, neck, or spine pain following an accident; if this is the case, Dr. Gomez' office can assist you with holistic pain relief as well as with your injury claim. As a patient in the Car Accident Clinic in Kendall, you'll find their professionals are every bit qualified to recommend an accident attorney who will be able to provide you with the right kind of representation following your auto accident.

After an auto accident, you should be seen immediately by a board-certified chiropractor. In the office of Dr. Keren Gomez, their professionals will spend all the time necessary to complete a full exam to accurately diagnose your injuries so they will be able to propose a treatment plan through their holistic approach to healing and wellness. Through minor spinal adjustments designed to relieve pain, you'll soon be on the road to recovery.

Since the Car Accident Clinic in Kendall is very active, the team of professionals treats many patients who have been injured in auto accidents, and they are quite familiar with the problems involved. When a patient arrives carrying the burden of having sustained injuries while trying to maintain their lifestyle and taking care of their family, the staff is sympathetic and understanding.

Dr. Keren Gomez is exceptionally proud of the professional connections she has made in the Kendall area, and beyond. Through them, her patients benefit from her competent care and pain relief treatment, as well as from knowing they can rely on her recommendations for legal counsel. You may be surprised to learn that it's not at all uncommon for chiropractors to work closely with auto accident lawyers, yet the fact is that likewise, many attorneys will recommend a reputable chiropractor for treatment after an auto accident.

With the help of the Car Accident Clinic in Kendall, you will be adequately armed in dealing with your insurance company. Dr. Keren Gomez' recommendation for a skilled attorney will ensure that your insurance claim is handled professionally, for quick results. When it comes to lost wages, medical bills, pain & suffering and your auto's replacement or repair, you'll need the assistance of a professional.

Schedule an appointment today at the Car Accident Clinic in Kendall by calling 305-761-6528 to ensure your injuries are thoroughly examined, and a treatment plan is put together for you.
Car Accident Clinic Kendall
Dr. Keren Gomez
305-761-6528
12550 Biscayne Blvd Suite 404, North Miami, FL 33181
View Larger Map