Car Accident Chiropractor Near Me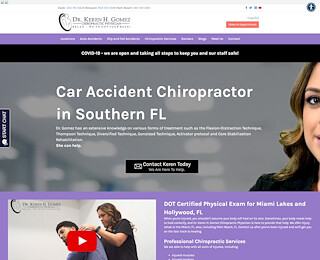 After a person has a car wreck, it's crucial to get into a chiropractor's clinic within the first two to three days following the accident. The person may go to Google and search for "Car accident chiropractor near me." While there may be several results for this search term, you want to make sure of two things when hiring a chiropractor post car accident:
1. They are experienced in working with car accident patients
2. They know how to coordinate with your personal injury attorney
Dr. Keren H. Gomez Chiropractic serves the Miami area proudly, and we routinely help car accident victims heal and feel better again.
Why it's Important to See a Chiropractor within the First 2-3 Weeks After a Car Accident

At this early stage following a car accident, there's likely fluid in the muscles, swelling, inflammation, and lots of pain. Depending on how bad the wreck was, your spine might have been knocked out of place, and a series of chiropractic alignments can work wonders for you!

Even a minor car wreck can cause major trauma to your spine. Do not take this lightly! What you do in the next several weeks (or don't do) will determine whether or not you have to live with a lifetime of pain or a lifetime of feeling better. The reason this period is so crucial is that car accidents cause the spine to whip out of joint. This is what we call a "whiplash." When a spine gets whipped out of place, it stays out of place! It will not go back into proper place on its own.
What Happens When You Suffer Whiplash
When a whiplash occurs, the muscles and ligaments have been injured, and they lock in place. Over a short period, scar tissue begins to build up in your muscles and ligaments, and once scar tissues forms, it cannot be removed. It will never go away! The sooner you come in to see a chiropractor, the quicker we can work on you and get your muscles, ligaments, and bones back to normal functionality, so that you can feel like yourself again and live your life free from accident-related pain.
The Consequences of Waiting
If you wait a week or two after your accident to come in for chiropractic treatment, things have probably already begun to set. The bones begin to stay in their dislocated positions instead of in their proper positions. The muscles and ligaments begin to form scar tissue, and everything stays put. Now, you have a permanent problem that's going to cause a lifetime of pain and may even lead to future health problems. All of this could be avoided with a visit to the chiropractor's clinic following the car accident.
If only a couple weeks have passed since your accident, it's probably not too late to get chiropractic treatment. Unfortunately, the longer you wait, the more uncomfortable an alignment is likely to be for you. Of course, Dr. Keren H. Gomez has several different ways to adjust a patient. We always try to get our patients back to 100% as quickly and as painlessly as possible. That's why we need you in here as fast as possible following a car wreck. When you Google "Car accident Chiropractor Near Me," find and choose Dr. Keren H. Gomez if you are in the Miami area.
Car Accident Chiropractor Near Me
Dr. Keren Gomez
305-761-6528
12550 Biscayne Blvd Suite 404, North Miami, FL 33181
View Larger Map
We welcome your comments!