Auto Injury West Palm Beach Florida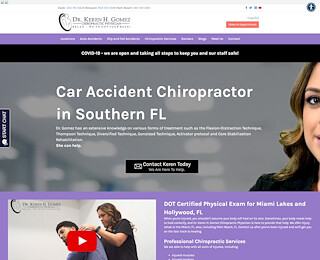 Are you trying to deal with an auto injury in West Palm Beach, Florida alone? You don't have to! The Auto Injury Clinic in West Palm Beach, Florida is there to provide medical assistance immediately following a car crash, and can further help you by recommending an experienced auto accident lawyer who can represent you.
Dr. Keren Gomez from the Auto Accident Clinic is a Board-Certified Chiropractic Physician and a member of the Florida Chiropractic Association and has been practicing and licensed since 2007. Her mission has been to provide quality healthcare for those in need. Favoring the holistic approach, Dr. Gomez strives to alleviate pain while educating her patients on becoming active participants of their well-being. 
As a Chiropractic Physician, Dr. Keren Gomez treats the entire person, not just their symptoms. Through this structured approach, Dr. Gomez can help her patients achieve optimal levels of overall health and personal wellness.
If you are dealing with an auto injury and are in the West Palm Beach, Florida area, you should be aware of several things following the event of an auto accident. Among these, one of the most important is that you seek medical help immediately following an accident. If there is any doubt in your mind about whether or not you've been injured, it's better to err on the side of caution and get checked out. Following an accident, you should follow these steps:
- Call 911. An auto accident in West Palm Beach, Florida is indeed considered an emergency. Police officers and first responders should be dispatched to your accident in the case of injuries, and to record the accident. If you're unable to make the call, petition someone to do so.
- Seek medical treatment immediately. If you have serious injuries or suspect that you do, let emergency personnel take you to the emergency room. If your injuries are not serious, you may choose to go to the hospital on your terms. It's essential that you understand that you have only 14 days after an auto accident in the West Palm Beach, Florida area to seek medical treatment for your injuries. If you fail to seek treatment within that amount of time, you forfeit any rights to benefits or compensation for your accident injury.
- Call your auto insurance company and ask them for a claim number for the accident. You will need this claim number for various purposes following the accident.
- Call Dr. Gomez at the Auto Injury Clinic in West Palm Beach, Florida. Their facility can provide you with transportation if you're not able to drive your car. The Auto Injury Clinic can provide much more than exceptional medical treatment following an accident. They are also able to help you make a connection with an auto injury attorney from West Palm Beach, Florida who can represent you in your case.
It's a scary time following an auto accident. Don't try to go it alone- contact the Auto Accident Clinic by calling 305-761-6528. They'll help you put the pieces of your life back together after an accident.
Auto Injury West Palm Beach Florida
Related Posts