Auto Injury North Miami Florida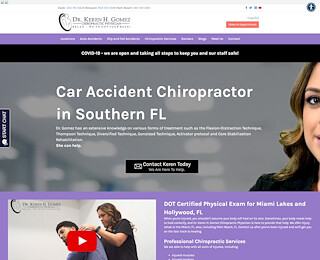 Are you suffering due to an auto injury in North Miami, Florida? There are some fundamental things you should know if you've been injured in an auto accident. First and foremost, after an accident, call 911. You may have thought that calling 911 was only for emergencies. That's exactly what an auto accident is!
You have 14 days to seek medical treatment for your auto injury in North Miami, Florida. If you wait until after the 14-day allotment, you forfeit all of your rights for medical benefits. If you think it's appropriate that you go to the emergency room, don't hesitate. It's better to be safe than sorry later. Often enough, injuries from automobile accidents don't begin to hurt until later in the day, or the following day. If you feel that you've been injured in any way, go to the hospital and get checked out.
After an auto accident, if you have an injury, contact your North Miami, Florida insurance company and ask them to give you a claim number. Finally, although not least in importance, call Dr. Keren Gomez at the Car Accident Clinic. With seven convenient locations throughout Florida, including West Palm Beach, Pompano Beach, Hollywood, North Miami, Miami Lakes, Miami Airport area and Kendall, you're never far from one of their locations. The Auto Accident Clinic can provide transportation for you if you're unable to drive your car.
The Auto Injury Clinic in North Miami, Florida works with accident attorneys in Miami, Broward, West Palm Beach and Orlando. If you need legal assistance, but don't know who to call or where to turn, how you will be able to pay for medical treatment or how to begin sorting out the chaos after your accident, The Auto Injury Clinic can refer you to a Florida Bar licensed accident attorney to represent you with legal counsel.
With the help of an auto accident attorney, you can get your vehicle repaired most likely sooner than if you were to handle the details of your claim by yourself. An attorney is also more prepared to make a demand on your behalf for your injuries, medical treatment, lost wages and pain & suffering. That's why it's essential to work with a qualified and experienced injury lawyer who can represent you and help you get the compensation you deserve after being injured.
Dr. Keren Gomez is an accident Chiropractor Physician who has helped many patients in similar situations as yours. If you are dealing with an auto injury in the North Miami, Florida area, contact her office by calling 305-761-6528. Dr. Gomez has been treating patients with traumatic injuries like yours since 2007. 
If you need help after an auto accident, call the Auto Accident Clinic and get started with treatment right away. They'll not only treat your injuries following a car crash, but they will also help you find the right auto injury attorney to handle your case. Don't try to navigate this difficult time alone. There is help- and it's just a phone call away, at the Auto Injury Clinic in North Miami, Florida.
Auto Injury North Miami Florida
Dr. Keren Gomez
305-761-6528
12550 Biscayne Blvd Suite 404, North Miami, FL 33181
View Larger Map
We welcome your comments!