Auto Accident Injury Hollywood Florida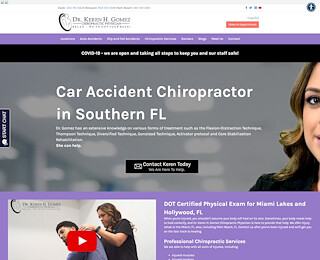 Have you suffered an auto accident injury in the Hollywood, Florida area? Dr. Keren Gomez is a Chiropractic Physician who can treat your injuries. It's essential that you get treated promptly for any injuries you have sustained during an automobile accident, as time limits may keep you from being able to seek medical compensation if you wait too long to be treated.
After an accident, it's typical for someone injured to receive a diagnosis of a cervical misalignment. This happens when a vehicle crash or other traumatism causes a sudden and abrupt movement to the head, in which it is forced beyond the normal limits of its motion: the neck muscles violently snap the head forward, then, an immediate reflex causes the head to propel backward. This injures several structures of your neck, such as the muscles, ligaments, and joints. 
With a cervical misalignment, you may experience pain in your shoulders, making it difficult and painful to move your head from side to side. Some of the symptoms of a cervical spinal misalignment include cervical pain, shoulders, arms & hand pain, tingling sensation in the hands, headaches, stiff neck and dizziness.
Having one or more of these symptoms is an indication that you're dealing with a cervical misalignment. Dr. Keren Gomez can help you with pain management and healing, through a wide range of Chiropractic treatments available if you're suffering from an auto accident injury in Hollywood, Florida. You can achieve the relief of muscular, back or neck pain through professional Chiropractic treatment, which is based on the proper alignment and manipulation of the spine. 
Dr. Keren Gomez can provide Chiropractic treatment that can help to relieve the pressure from the spinal nerves, allowing a natural and healthier recovery, providing more strength to the muscles and ligaments. The pressure from the nerve is removed through the manual alignment and manipulation of the spine. 
If you have an auto accident injury in Hollywood, Florida, make an appointment with Dr. Keren Gomez. Her clinic provides the following types of treatment designed to accelerate healing and manage pain: therapeutic massage, cold laser, therapeutic ultrasound, medical traction, moist heat or ice, rehabilitation, spinal adjustment and muscle stimulation. Find out more about the Chiropractic treatments available for your auto accident injury at the Hollywood, Florida clinic by visiting online at drkerengomez.com. 
If you ignore your injuries or prolong seeking treatment, you can set yourself up for chronic pain that may last a lifetime. Active and passive therapies administered by your Chiropractor Physician can help restore muscular strength and flexibility. This will allow the soft tissue to heal correctly with less chance to suffer from future pain and dysfunction.
For your auto accident injury in Hollywood, Florida, call the Chiropractic clinic and get help. If you wait, you could lose your rights to receive just compensation for your injuries, even if they are due to someone else's negligence. Make an appointment today with Dr. Keren Gomez by calling 954-510-5518. 
Auto Accident Injury Hollywood Florida
Dr. Keren Gomez
305-761-6528
12550 Biscayne Blvd Suite 404, North Miami, FL 33181
View Larger Map