Accident Injury Clinic Near Me Miami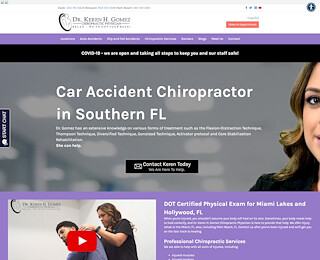 If you are in Miami and searching for a respected accident injury clinic near you, consider Dr. Keren H. Gomez Chiropractic. If you've been in an accident, you need to get treated, whether your primary care physician has diagnosed you or not. We can assist in the recovery process, reduce your pain, and document your injuries.
Chiropractic is a Cost-Effective Solution
If you don't have health insurance or can't afford to see a primary care physician, visit a chiropractor and search for other alternatives. Of course, any accident victim- whether their injuries are minor or severe- should see a doctor right away! Often times, the best avenue for the accident victim is to seek treatment at both a primary care physician and a chiropractor to get the best treatment possible.
Is it Legal or Ethical to Use My Chiropractor for My Personal Injury Claim?
Not only is it legal and ethical to go to a chiropractor after an accident, but it's also highly recommended that you do so! A chiropractor can get you realigned following an accident. If your spine has been knocked out of place during an accident, getting chiropractic therapy can help you to feel better, get back to full health, and avoid lasting injury.
A Chiropractor Can Make the Difference
Often times, doctors aren't able to find anything medically wrong with a patient after an accident. Therefore, as an expert witness, if your personal injury claim were to go to trial, the doctor would be ineffective at best or even hurt your case. However, just because a doctor doesn't find a medical issue doesn't mean you haven't suffered real damages as a result of your accident. You know your body better than anyone!
At our accident injury clinic in Miami, we help accident victims near us to get the healing they need. Plus, we can assign names to injuries that doctors often can't, and we can even serve as expert witnesses if subpoenaed to do so. If you've been injured in an accident, it's your right to just compensation, and it's your right to get the treatment you need.
Further, it's your responsibility to get chiropractic treatment following an accident, especially if your doctor couldn't find anything wrong with you. While we can't give legal advice, many lawyers recommend their clients to us. Many of our clients report that insurance companies will ask them what they've done to get treatment.
Why Should I See a Chiropractor After a Car Accident?
Not only does getting treatment right after a car accident help you to feel better and heal from the physical injuries you've suffered, but it could also help your personal injury claim if you have one in progress or if you're thinking about filing one. In cases where we see real injuries from car accidents, we are able to serve as expert witnesses if called upon to do so. We can also help your medical doctor or assign a diagnosis when they can't fnd anything "medically" wrong with you.
Call Dr. Keren H Gomez Chiropractic and schedule your first appointment today.
Accident Injury Clinic Near Me Miami
Dr. Keren Gomez
305-761-6528
12550 Biscayne Blvd Suite 404, North Miami, FL 33181
View Larger Map
We welcome your comments!