Accident Clinic Miami Lakes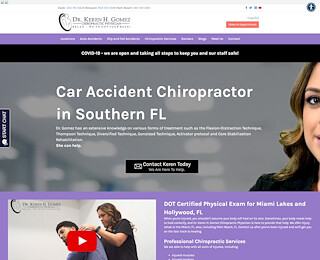 Are you dealing with the aftermath of an auto accident? Dr. Keren Gomez and her team offer professional medical diagnostic services and medical treatment in the best accident clinic in Miami Lakes. If you're left wondering how to pick up the pieces after an accident with injuries, make a call right now to Dr. Keren Gomez- you have only 14 days after an accident to seek medical treatment; otherwise you forfeit your rights to compensation under the law.
Medical and Legal Help After an Accident
We hear from so many patients who express their confusion over how to proceed after an accident. When injuries compound the situation, it's not easy knowing where to turn or who to trust. Dr. Keren Gomez not only offers the comfort of a thorough evaluation, diagnosis, and medical treatment plan to get your life back on track, but her team also specializes in connecting injured patients with expert legal representation.
You'll benefit from knowing all of your medical and legal needs are being met with a single point of contact. We can put you in touch with the area's most prominent accident lawyers who will work tirelessly to ensure you are compensated for your injuries. Call to schedule an appointment or let us know if you need us to accommodate transportation to our medical facility.
Tips For Choosing the Right Accident Clinic in Miami Lakes
Spend time online researching the credentials of local medical facilities to be sure you're being treated by a team of experts who have your best interest at heart. Type 'Dr. Keren Gomez' into your preferred local directory and read reviews left by real patients who have been treated in our facility. We have a reputation as being the most compassionate accident clinic in Miami Lakes- don't take our word for it, explore online resources for more information on how we can meet your needs.
Seek Treatment From an Accident Specialist
We're not just another medical clinic set up in the city- we are accident injury specialists with training in diagnostics and multi-treatment methods to speed healing and prevent further pain. If you're dealing with whiplash or another painful after-accident injury, you'll find relief from pain through our treatment protocols.
Focus On Healing
We know you have enough on your plate after an automobile accident, which is why we have chosen to partner with legal giants throughout the greater Miami region who can offer their assistance in handling your claim. If your injuries were caused by the negligence or intentional actions of another driver, you'll be put in touch with a law firm that can offer free legal advice and recommend the best course of action regarding your case.
Make a call to Dr. Keren Gomez and her staff at the reputable accident clinic in Miami Lakes- we're here for you when you need compassionate, professional medical treatment and legal assistance after an accident. Don't wait another day to begin the healing process- time is limited to seek recourse under the law.
Accident Clinic Miami Lakes
Dr. Keren Gomez
305-761-6528
12550 Biscayne Blvd Suite 404, North Miami, FL 33181
View Larger Map