Accident Chiropractor Pompano Beach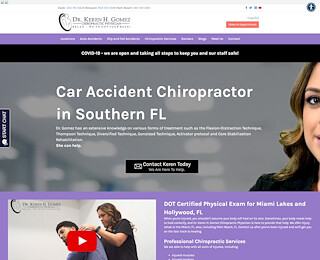 As an accident chiropractor in Pompano Beach, Dr. Keren Gomez urges accident victims to contact her office promptly following an accident. After urgent care in the ER, the next step on your road to recovery is seeing an experienced chiropractor for an accurate diagnosis and quality treatment.

Are you dealing with pain following an auto accident? Dr. Keren Gomez and her staff are dedicated to helping patients take back their lives following the events surrounding an accident. You may be dealing with migraines, back pain, neck pain, limb numbness, weakness or another type of pain. It's essential that you know the Auto Accident clinic is there to help you with pain relief and avoidance of future chronic conditions.

Many accident victims are not aware that chiropractors and lawyers often work together for the common goal of helping patients get the best possible medical care, along with proper legal representation. Dr, Gomez is proud of the relationships she has built throughout the community and of the benefit her patients receive from receiving competent care and pain relief treatment, along with a qualified referral to a local attorney who can provide counsel and representation.

For accident victims who may not have ever had to navigate the rough waters following an accident, it can be a great relief to find their needs met by the Auto Accident Clinic. Your chiropractor's referral to an accident attorney means you will be adequately armed when dealing with your insurance company, instead of feeling as though you have to take the first offer they present to you- one which is almost certainly going to fall short of meeting your needs. The skill and experience of an attorney in your corner will ensure that your claim is handled professionally and efficiently for quick results.

Following an auto accident or a slip and fall accident, contact the chiropractor in Pompano Beach by calling 305-761-6528. Then, take the following essential tips:

- Call your insurance company to get a claim number. You will need access to this number throughout the entire process of seeking medical treatment and speaking with an accident attorney.
- Be sure to make your appointment with Dr. Keren Gomez within 14 days following the accident.

- Follow the chiropractic treatment advised by Dr. Gomez for your recovery. When you listen to the staff at the Auto Accident Clinic and follow their treatment advice, their office will document and record your injuries and report them to your insurance company.

- Follow-up on your attorney referral from the office to connect with legal counsel who will represent you throughout your claim. If your insurance company does not want to pay for your medical bills, having an attorney in your corner will work in your favor, freeing you of the financial burden and helping you recover your losses.

Call the accident chiropractor in Pompano Beach at 305-761-6528 to speak with a professional who can schedule an appointment for a thorough exam following your accident. You'll be glad you called the most qualified chiropractor in the area. Call now- don't wait to be seen.
Accident Chiropractor Pompano Beach
Dr. Keren Gomez
305-761-6528
12550 Biscayne Blvd Suite 404, North Miami, FL 33181
View Larger Map