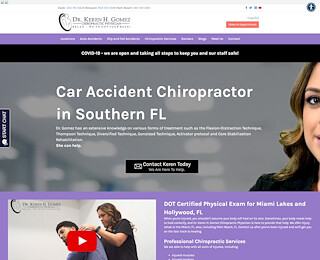 Finding the right accident chiropractor in North Miami following an auto accident is not always as easy as it sounds. At The Accident Clinic of North Miami, you can expect to receive exceptional care, an accurate diagnosis and quality treatment for your injuries.

It's difficult to understand the process of navigating post-accident medical care, especially if you've never gone through anything like this before. You may have thought that urgent care in the ER was enough, but in reality, getting immediate care is only the first step in managing on-going medical treatment for an injury. Untreated injuries can result in chronic pain that can lead to a greatly diminished quality of life for an accident victim.

Dr. Keren Gomez is an chiropractor in North Miami specializing in treating injuries with holistic care. She's found that treating injuries with pain killers and anti-inflammatory drugs only suppress pain and other symptoms that present themselves along with an injury, leaving injured muscles to heal on their own with no help.

Your injuries must be diagnosed properly by an accident chiropractor in North Miami so that you can start on a treatment plan that will lead to your recovery. The Auto Accident Clinic offers the following types of treatment:

– Intervertebral traction, which gently stretches the spine to separate the vertebrae and relieve stress imposed upon the discs. As discs are allowed to absorb more blood, they are fed nutrients that allow the spine to heal more quickly.

– Electric Muscle Stimulation for the relief of pain and relaxation of muscles following trauma. When EMS is applied to muscles adjacent to the spine, there is a relief of pain and nerve irritation.

– Therapeutic ultrasound, using sound saves at high frequencies to create deep tissue heat that reduces swelling, relieves pain and aids in the healing process.

– Neck traction to restore the natural curvature of the neck and reduce pressure on the nerves.

– Neck strengthening, performed as an isometric exercise to help support the natural neck curvature.

– Moist heat that helps increase circulation to the effected area while relaxing the muscles and relieving pain.

– Cryotherapy, through ice packs, for acute injury that requires a reduction in swelling, is also used for pain management.

– Light therapy to speed up the healing process, removing energy blockages and detoxifying the body.

Dr. Keren Gomez understands that after an accident it can be extremely difficult to deal with the shock of the auto accident, the physical pain, legal issues and financial loss due to medical bills, damage to your vehicle and inability to work. Her office offers top chiropractic treatment of injuries from auto accidents as well as reliable legal referrals and help dealing with your insurance company.

With a convenient location in your neighborhood, the accident chiropractor in North Miami suggests that accident victims seek treatment as soon as possible following their accident. You'll need a quick and accurate diagnosis, immediate treatment and a quick turnaround time with your insurance company. Call 305-761-6528 today for accident help.
Accident Chiropractor North Miami