Accident Chiropractor Miami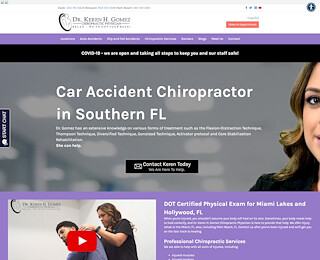 If you are looking for a qualified accident chiropractor in Miami, consider calling the office of Dr. Keren Gomez. Your injuries require prompt evaluation and treatment following an auto accident to ensure that the outcome is as favorable as possible when it comes to your long-term recovery.

Often, victims of auto accidents are led to believe that if they have sought urgent care treatment after an accident, there is nothing else they need to do; however, immediate care is only the beginning when it comes to managing your injuries. After urgent care, ongoing treatment by an accident chiropractor in Miami is essential for an accurate diagnosis of your injuries and quality chiropractic treatment.

For victims who opted out of being seen in the ER after the accident, it's even more important that they undergo a thorough exam to determine the extent of their injuries.

If you've noticed pain in your neck, upper back or torso after the accident, there's a chance you may have suffered whiplash that is undiagnosed. You may be tempted to wait to seek treatment, hoping that the pain will go away, however, in many cases the pain will only get worse, not diminish over time. The reason for this is because it can take time for whiplash to present itself; even if there is damage, you may not feel any pain for days or even weeks after sustaining the injury.

A quick examination by an accident chiropractor in Miami is vital in an accurate diagnosis and should be first on your list for a couple of reasons. Not only is it essential to start treating whiplash before chronic pain sets in, but victims are also often unaware that they have only 14 days to seek medical treatment in the state of Florida, or waive their rights to look for compensation under the law.

In the case of whiplash, the spine is destabilized, which can lead to severe and chronic pain that may significantly reduce the quality of your life. Symptoms that demand an immediate evaluation by a doctor include:

- Headaches or migraines following the accident
- Pain or stiffness in the neck
- Pain or stiffness in the back
- Blurred vision
- Reduced quality of sleep
- Dizziness
- Tingling, weakness or pain in the arms or legs
- Diminished range of motion in the neck

Since the head and the neck are vulnerable during an accident, due to lack of support, they can easily sustain injury. Dr. Keren Gomez and her team are trained in various chiropractic treatments for whiplash. With gentle adjustments, you can experience pain relief that comes from chiropractic treatment.

Now is the time to contact the accident chiropractor in Miami. Don't wait until it's no longer possible to file for compensation for your injuries. Dr. Gomez works with numerous high-profile attorneys in the greater Miami area and can help you secure legal counsel with a lawyer who will represent your case and fight for your rights. Call 305-761-6528 now to speak with a professional.
Accident Chiropractor Miami
Dr. Keren Gomez
305-761-6528
12550 Biscayne Blvd Suite 404, North Miami, FL 33181
View Larger Map