Accident Chiropractor Kendall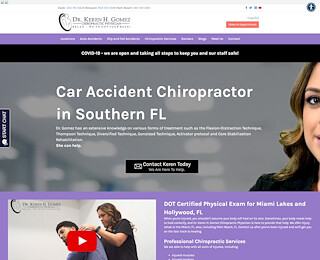 Are you seeking an accident chiropractor in Kendall? Contact Dr. Keren Gomez by calling 305-761-6528. As an accident recovery chiropractic physician, Dr. Gomez will provide you with a thorough diagnosis and treatment plan following your auto accident.

There are several important reasons why you should be seen by a doctor immediately following a car accident. In the case that you opted out of urgent care right after the accident and decided not to go to the hospital, it's even more important that you are thoroughly examined by an accident chiropractor in the Kendall area. In the case of whiplash, it can be days or even weeks before you notice any pain, and that can bring with it a host of problems.

Florida law allows victims of auto accidents 14 days in which to seek treatment for their injuries. While that may seem like a lot of time, it isn't, especially if the accident victim isn't aware of their injuries until after that time has passed. If you have sustained whiplash, you may not be aware that you have an injury and you may not even be in pain, however, over the course of days, weeks or even months, the pain will become apparent and will increase over time.

The pain of whiplash that has presented itself can be unbearable and difficult to live with. Prompt medical attention is crucial to managing the symptoms which can include:

- Pain and stiffness in the neck
- An increase of pain over time with neck movement
- Diminished range of motion in the neck
- Intense headaches
- Tenderness or pain in the shoulders, upper back, neck or arms
- A tingling feeling in the arms
- Extreme fatigue
- Dizziness
- Inability to concentrate

These common symptoms are often accompanied by additional symptoms that can make life very difficult and painful for an accident victim. Following an accident, if you even suspect that you have suffered whiplash, schedule an appointment with the Accident Chiropractor in Kendall by calling 305-761-6528. A thorough exam will reveal the extent of your injuries, which is necessary to prepare a treatment plan that will lead to your recovery.

It's important that you don't wait until your injuries get worse before you seek treatment. When injuries are not directly addressed with proper rehabilitation, they can lead to chronic pain that can last for years following an accident. Your accident chiropractor in Kendall will administer active and passive therapies that will help restore muscular strength and flexibility.

Schedule an appointment today at the Auto Accident Clinic in Kendall. Dr. Gomez is knowledgeable about various forms of treatment and can help you move forward on your road to recovery.

To learn more about treatment for your injuries, visit DrKerenGomez.com, where you can read more about the types of treatment provided, how their clinic can connect you with local legal counsel and find a wealth of information that is designed to answer your questions following an accident. Call Dr. Gomez today- don't wait.
Accident Chiropractor Kendall
Dr. Keren Gomez
305-761-6528
12550 Biscayne Blvd Suite 404, North Miami, FL 33181
View Larger Map
We welcome your comments!